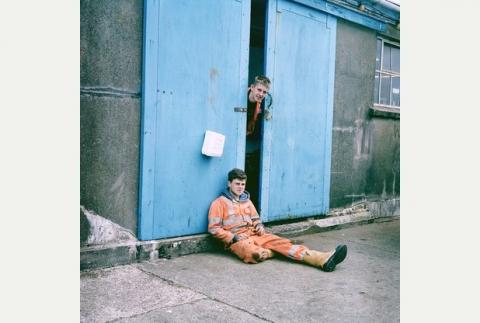 Newlyn festival is not to be missed

By The Cornishman

OPENED in Newlyn Art Gallery by its patron, famed film and theatre director Michael Grandage CBE, Newlyn's 9th Arts Festival could not have had a better beginning.
Renowned for his productions at the Donmar Warehouse in London, Michael grew up and was schooled in this part of the world where he still has a home. His latest theatre production Photograph 51 which stars Nicole Kidman has just opened in London, and he has recently made his first film Genius which as well as Colin Firth and Jude Law also stars Nicole Kidman.
An arts festival which focuses on the Newlyn of today rather than that of yesterday, its whole ethos is contained and expressed in the mult-media project Always Changing, Forever The Same which fills the Lower Gallery.

Very much a labour of love by a talented quartet, film-maker Mark Jenkin, musician Rick Williams and photographer Michael Eddy, led by Callum Mitchell whose series of poems centred aound his memories of December 8 in 1989, 1996 and 1999, and typed on chip-wrap paper from the local fish and chip shop and framed courtesy of a local charity shop, it emphasises the fact that, as one of its appealing features states, What you see here is what you get.

What you get in the gallery's Picture Room is a very welcome and moving retrospective exhibition of paintings by the late Bernard Evans who, sadly, died just over a year ago. Presented in his memory by his family, from Newlyn Fish Market and Newlyn Fish Festival to Lugger Old Quay and Sunrise New Pier, the pictures it contains not only remind one of what a consummate artist he was, but also act as a starting point to the trail of his work, sited at various locations around Newlyn, which is well worth following and can be done so with the help of the accompanying map. One who came to live and work in Newlyn in the 1970s, he and his artist wife Audrey set up and for a quarter of a century ran the Mount's Bay Art Centre where they taught students from all over the world. He studied at Liverpool College of Art and at Camberwell School of Art where he came under the tutelage of Martin Bloch and like him, good drawing and composition remained as important features of his work.
A familiar figure in and around Newlyn, often seen during his lifetime sketching and painting en plein air, respected by local fishermen some of whom commissioned him to paint a picture of their boat or of themselves working, he was proud of his connection with and his acceptance by them. An active member for several years, and sometime chairman, of the Newlyn Society of Artists, in his later years he made a whole series of works in the capital.
Not to be missed, exhibitions offering plenty to see and enjoy, not forgetting the magnificent view of Mount's Bay from the Studio Cafe's window, they can be seen in Newlyn Art Gallery until Saturday.