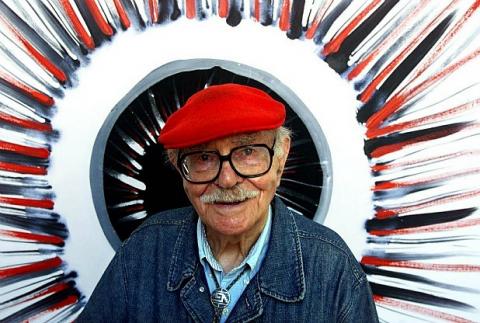 Sir Terry Frost

By Western Morning News

By Simon Parker @simonparkerwmn

Simon Parker looks forward to a double celebration of one of the great figures in Cornish art.
A major retrospective exhibition of the work of one of Britain's most influential abstract artists is to be staged at two galleries in West Cornwall this autumn. Twelve years after Sir Terry Frost's death in 2003, his legacy will be re-examined through shows at Newlyn Art Gallery and The Exchange in Penzance.
Timed to mark the centenary of the Newlyn-based painter's birth, Tate St Ives has organised a special exhibition bringing together a large selection of his most significant paintings, collages and sculpture from public and private collections across the UK. Looking at Frost's work through ideas of performance, construction and colour, the exhibition will take a fresh perspective on his achievements over six decades.
Frost started painting while a prisoner of war in Germany in 1943, where he met artist Adrian Heath. After his eventual release, he went on to study at Camberwell School of Arts and Crafts, under Victor Pasmore and William Coldstream.


When he arrived in St Ives in 1946 the port was just emerging as a hub for modern British art. Working in close proximity to established artists such as Barbara Hepworth and Ben Nicholson, he developed his own personal approach to abstract art.
Living in St Ives during the 1950s, he was part of a close circle of emerging British modernists working with abstraction, including Roger Hilton, Patrick Heron, Peter Lanyon and Bryan Wynter. This autumn's exhibition will highlight key paintings from Frost's formative periods working in Cornwall and Yorkshire, including paintings from his breakthrough Walk Along The Quay series, begun in 1950.
Also included are large-scale paintings such as Blue Winter 1956 and Orange and Black, Leeds 1957, created in response to the Yorkshire Dales.
After discovering acrylic paint while teaching in California in the 1960s, he became increasingly interested in colour as a "character" in itself. In 1970 he developed a range of "soft sculptures" including stacks, spirals and loops, made from painted canvas tubes filled with polystyrene balls. Suspending these arcing forms from walls and ceiling, or bundling them together, he sought to bring out colour in all its intensity without hard structure or flat surface – as a "brushstroke in space". The exhibition will feature a re-commissioned series of these little-known, strikingly contemporary three-dimensional works.
Painting into his late-eighties, the artist's passion for colour, his ever-smiling demeanour and his approach to his life and work will be the dominant themes of Sir Terry Frost 1915-2003 at Newlyn Art Gallery and The Exchange in Penzance from October 10 to January 9.