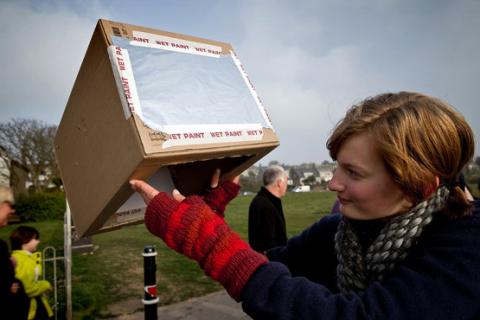 Lisa-Mae Evans tries out her pinhole camera
People climb to the top of the PZ 360 roof top to get a better view
West Cornwall was treated to good visibility of the partial solar eclipse this morning despite some light cloud and a hazy start to the day.
A crowd gathered at Newlyn Green for the spectacle, including the BBC, the Cornwall Astronomy Society and artist Andrew Tozer who painted throughout the eclipse.
In Penzance many people stopped in the streets as the moon covered 90% of the sun, and staff from the Workbox climbed onto the roof of the PZ 360 building to get a better view.
Meanwhile, staff and pupils of St Ives School put on their eclipse glasses and headed out to their school field to watch the solar event.